---
Title:
---
---
Project Details:
---
---
Description:
---
Role: Visual Direction, Rebranding,
Logo Design

Tools: Figma, Illustrator, Photoshop

Guided by: Steven Watson, Creative Director @ Turnstyle Studio


Aston Martin, synonymous with British automotive excellence, caters to a sophisticated clientele by offering personalized sculptural artistry that enriches their lifestyle. Through precise hand-crafted sports cars, the brand combines power, beauty, and soul, leaving a lasting impression wherever one travels. This rebranding initiative aims to revitalize Aston Martin's image, attracting a broader audience in the evolving media landscape and among high-net-worth individuals, while maintaining its rich heritage. The goal is to establish a modern and flexible perception, solidifying Aston Martin as the premier provider of luxurious sports cars and grand tourers.

---
Design Process:
---
---
Design Process:
---
Drawing Inspiration from Heritage and Values

The Aston Martin rebranding initiative draws inspiration from the brand's rich history and iconic logo, embodying the values of luxury, performance, and elegance that define Aston Martin. This journey seeks to preserve the brand's essence while injecting it with a renewed spirit, blending tradition with innovation by uncovering key design elements from Aston Martin's legacy. The objective is to create an evolution that gracefully bridges the gap between the brand's esteemed past and its dynamic future, resonating deeply with dedicated enthusiasts and a new audience.
---
Crafting Identity for the Modern Era

The rebranding process blends Aston Martin's heritage and values with contemporary demands, striving to craft an identity that honors the brand's legacy while embracing innovation. This delicate balance between tradition and innovation aims to create a visual narrative that resonates with familiarity while introducing fresh elements of appeal. Ultimately, the goal is to reaffirm Aston Martin's position as a provider of luxurious sports cars and grand tourers while establishing a lasting presence in the ever-changing landscape, synonymous with refined luxury and enduring performance.


---
Aston Martin
---
---
---
---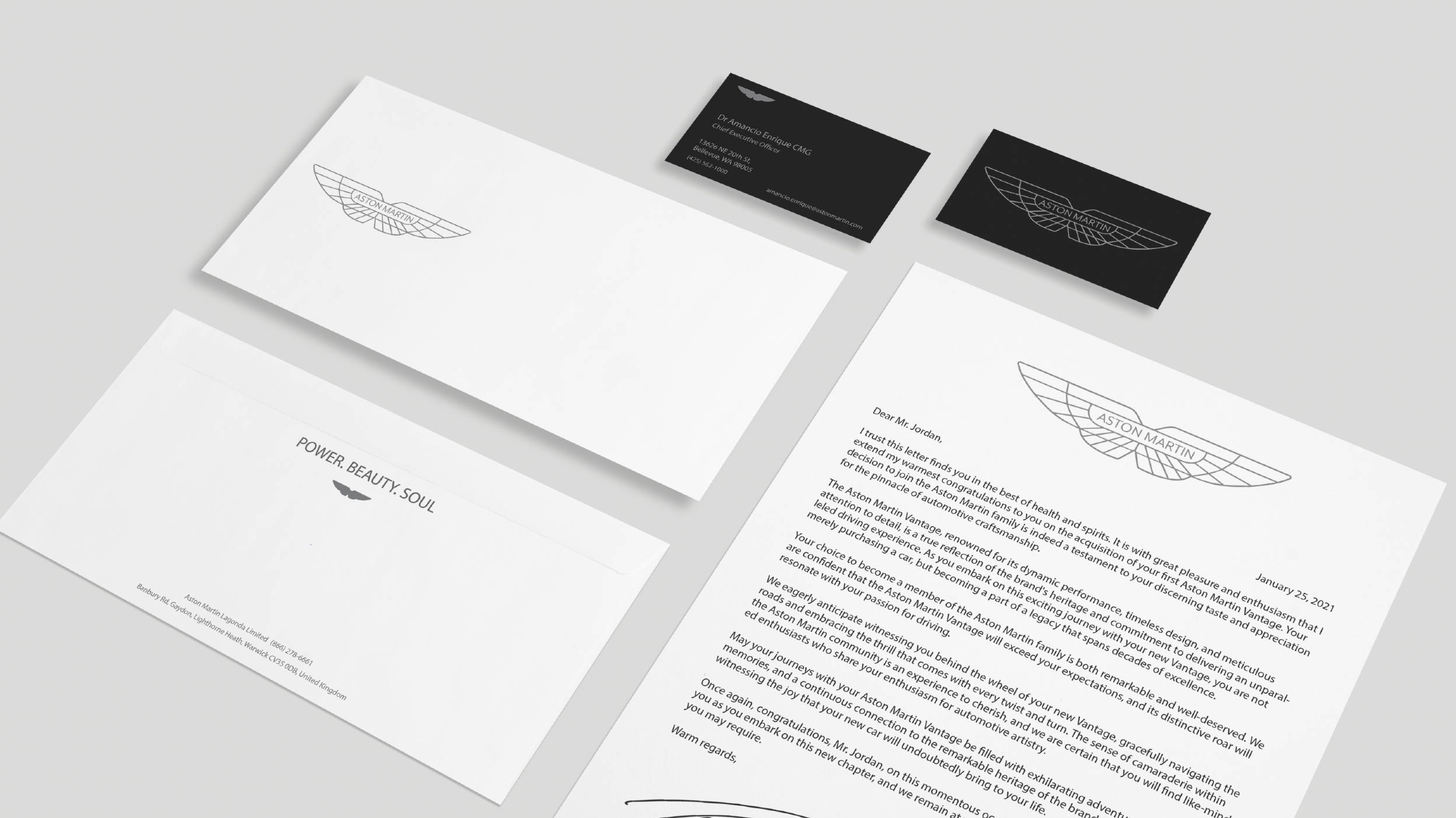 ---
---
---
---